Our Circle of Love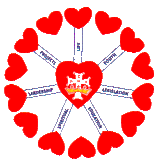 By definition, a circle is a curved line with every point equal distance from the point to the center and bound together by a common interest. The seven point program of the "Circle of Love" is bound together by the common interest - love. The seven points selected indicate the needs of the Church and community best served by the Catholic Daughters. The program itemizes these needs with suggestions on how Catholic Daughters can effectively serve.
Local Courts are asked to select those portions of the programs that their members feel comfortable working on in their area. If many projects are selected, the task can become burdensome and little is accomplished. Members need to experience fulfillment when the projects are completed. This can happen when courts are selective in choosing court programs.
---

Current State Charitable Projects
Washington State Catholic Conference - Located in Seattle, the WSCC represents the Catholic Bishops of the state of Washington on issues of public policy. The WSCC sponsors the Catholic Advocacy Network to allow participants to become informed on legislative issues in light of Catholic social teachings and to become engaged in the political process.
40 Days for Life - is a focused Pro-Life campaign with a vision to access God's power through prayer, fasting, community outreach and peaceful vigil to end abortion. Campaigns are in the fall and spring (during Lent) each year.
TRFC, Inc (Hope Medical) - TRFC stands for Three Rivers Fertility Care, and was founded in September 2001. TRFC Inc. is a 501(c)(3) non-profit organization that provides women and couples with professional instruction of the Creighton Model FertilityCare System to naturally achieve or avoid a pregnancy, identify reproductive disorders, and refer to Creighton-trained physicians to help solve those issues. TRFC offers scientifically-based, ethically-sound healthcare to all women, regardless of their faith tradition or religious belief. All patients are treated with the same compassion, respect, and dignity, regardless of their faith beliefs or lack of belief. Three Rivers FertilityCare Center only offers healthcare which is consistent with Catholic medical ethics as outlined in the Ethical and Religious Directives for Catholic Health Services.
Prepares: Pregnancy and Parental Support - In March of 2013 The Pregnancy and Parenting Task Force was established by the Washington State Catholic Conference in response to the Bishops' call for a clearly identified "Catholic" initiative serving women and couples during and after pregnancy. The Bishops, Archbishop J. Peter Sartain, Bishop Blase Cupich, and Bishop Joseph J. Tyson charged a task force with the development of an array of professional services within the Church's existing diocesan social service agencies Catholic Charities of Spokane, Yakima and Catholic Community Services of Western Washington. Prepares is sponsored by the Catholic Church and open to all people and provides services to pregnant women, fathers, and their families by walking the journey from the conception to their child's fifth birthday.
For more information about our state projects and charities, please contact
Marilyn Nagle
, State & National Project Chairman.
Limited Edition WA State CDA Cookbook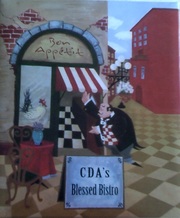 The State CDA Cookbook "CDA's Blessed Bistro" has 900 recipes that have been collected from Catholic Daughters around our state and beyond. It is a padded 3-ring binder with tabbed dividers for each section including Appetizers & Beverages, Soups & Salads, Vegetables & Side Dishes, Main Dishes, Breads & Rolls, Desserts, Cookies & Candies and This & That.
Each cookbook costs $25.00 and is a GREAT gift for any number of occasions, such as Christmas, wedding showers and graduations.
To purchase please contact: State Secretary,
Thereasa Trujillo
---
WA State CDA Green Shirt

The green shirt is the official WA State Catholic Daughters shirt. Show your state pride at the National Convention or Court meeting. You can find additional information about the shirt in the WA State newsletter. The shirt is $40. Contact

Thereasa Trujillo

to purchase.

---

Past Court Regent Club Shirt

To honor your service as a past court regent, sport one of these newly designed, fabulous red shirts. More information will be available in the December 2013 newsletter. The shirt is $40. Contact

Thereasa Trujillo

to purchase.

---
Recent Projects Completed
Brick By Brick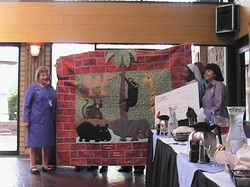 At the Washington State 45th Biennial State Convention held in Yakima April 26th & 27th, Sister Catherine Niyonsenga, FSSB, with the accumulation of our efforts, a $42,000 checks. Pictured with Sister Catherine are State Regent Charlene Dronen and National Regent Elect Shirley Seyfried. The Washington State Board would like to acknowledge the many people who donated to the auctions, gave of their time and talent to accomplish all of these projects and the groups and individuals that bought "bricks".
---
Habitat for Humanity Build ~ Pasco Wa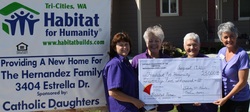 Past State Regent Charlene Dronen, Immediate Past State Regent Christy Hall and Past State Secretary Marilyn Hanses present check to Theresa Richardson of the Tri Cities Habitat for Humanity.
---
Habitat House Dedicated ~ December 17, 2011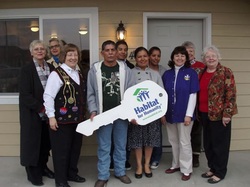 The Habitat house has been completed and the dedication was held on December 17, 2011. Pictured are: left front; Shirley Seyfried, 1st Vice National Regent (now National Regent-Elect); Mr Hernandez, new homeowner with his wife; Charlene Dronen, State Regent; and Anne Nelson, National Regent-Elect (now National Regent). Back left, Pat St. Hilaire, St Teresa of Avila Regent; Mona Vallee, St Teresa of Avila, Recording Secretary; Hernandez children and Christy Hall, 1st Vice State Regent (now State Regent). We wish the Hernandez family many joyful years in their new home.
---
National Charitable Projects

Disaster Relief Fund -

The Catholic Daughters maintain a Disaster Fund to which our members contribute. At the request of the State Regent where a disaster occurs, monetary assistance is forwarded to the Bishop of that diocese for distribution.

Habitat for Humanity -

The Catholic Daughters in partnership with Habitat for Humanity work to build simple, decent, affordable homes for economically disadvantaged people so they can have a better environment in which to raise their families. We provide the finances for the house and also help to build these homes.

Holy Cross Family Rosary -

"The family that prays together stays together" is the motto of the Holy Cross Family Ministries. Faithful to Mary, the Mother of God, The Family Rosary encourages family prayer, especially the Rosary.

Smile Train -

The Smile Train is an international charity dedicated to helping the millions of children in the world who suffer from cleft lip and palate through free surgery for children, free training for doctors, and research to find a cure. This life-changing surgery is truly a modern day miracle. It gives these children a new smile and a second chance in life. 100 % of the donations goes for the program and 0% to overhead. The average cost per surgery is presently $250 and takes about 45 minutes.

SOAR -

Founded in 1986 with $25,000 seed money received from Catholic Daughters. Augmenting the efforts of the institutional Church, SOAR! is a non-profit organization of persons who are committed to assuring financially stable and personally secure futures for elderly and frail members of Catholic religious congregations.

National ChairitesOther National ProgramsOperation Morning Star

encourages Catholic women to speak out and become active in legislative issues at the local, state, and national levels.

Operation Morning Star - September Newsletter

Recent Action Alerts
No Current Action AlertsLocal State & National Education Contest

- Each local court should make a very special effort to sponsor the EDUCATION CONTEST. The themes selected for the contest encourage lively imagination and freedom of thought when student talent and application go hand in hand. The contest enables students of our communities, schools and CCD classes to compete and strive for awards while following certain fixed rules. The choice of the categories is: ART , ESSAY, POETRY, COMPUTER ART, MUSIC and PHOTOGRAPHY. For more information about our state education contest, please contact

Kathy Murphy

, State Education Chairman
©2016 Washington State

Catholic Daughters of the Americas

all rights reserved

For questions regarding this site contact

webmaster